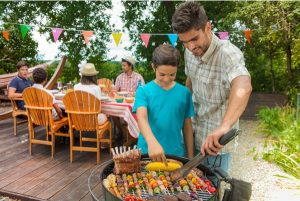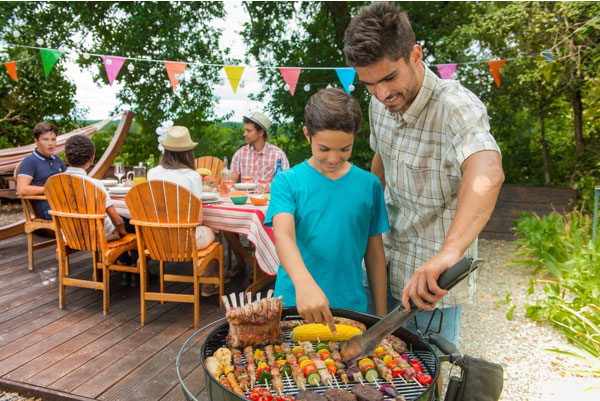 There's nothing like an outdoor barbecue with all the fixings. It's a sure sign spring is in full swing.
Anytime families gather their meals tend to be more enjoyable, especially out in the fresh air. Adding the sizzle and smell of lean meats like a grilled turkey burger, marinated chicken, or fish, and vegetables makes the meal even more meaningful, due to its nutritional value.
Here are a few healthy tips to help your family enjoy meals hot off the grill:
GIVE THEM OPTIONS.  Give your kids a chance to add their own fresh herbs, juice or marinades to proteins. Wrap everything in foil and throw it on the grill. Expect requests for seconds, particularly if you add fresh-squeezed lemon, lime or orange juice to the meat.
GO FOR THE GRAINS. Use whole-grain buns. They're more flavorful and more nutritious than white varieties.
GRILL FRUITS. Heat intensifies the natural sweetness of peaches, pears and pineapples. Slice them evenly and place them on the furthest edges (coolest parts) of the grill to make sure they stay tender. Nectarines, papaya and plums work well, too.
VEG OUT.  The smoky flavor grilling adds to vegetables can compel even the pickiest eater to discover new favorites.  Some grilled goodies include asparagus, avocado, bell pepper, corn, eggplant, mushrooms, onions, potatoes, squash and zucchini.
SERVE WISE SIDES. Swap traditional creamy sides like cole slaw, macaroni and potato salad for vinegar-based recipes, or serve colorful alternative versions like bean, fruit or leafy, green salads.