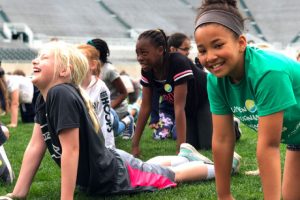 Think school assembly on overdrive.
The first Wednesday of every May, more than 300,000 children statewide exercise all at the same time. In collaboration with Farm Bureau Insurance, we are proud to host Project ACES — All Children Exercise Simultaneously. For one hour on ACES day, children from more than 1,000 schools across the state perform a variety of exercises, learning about the importance of physical activity and that moving can be fun!
Nearly 50,000 students, representing more than 1,000 schools, will showcase organized or themed events on their own home turf. It's a monster of a movement, worthy of support and applause. Research indicates student activity levels have been on a dramatically downward decline, attributed to increases in device and computer screen time, averaging about seven hours a day among American youth, according to the American Academy of Child & Adolescent Psychiatry. To see if your school is registered, look here.
Today only one in three children is active every day, according to the President's Council on Fitness, Sports and Nutrition.
The Michigan Fitness Foundation (MFF), with sponsor Farm Bureau Insurance, coordinates Michigan's ACES Day activities throughout the state. To learn more visit michiganfitness.org/events/school-events/aces/.