This month 810 KIDS! are learning about healthier snacks in classrooms throughout the Genesee Intermediate School District (GISD).
Leah Cox, GISD's Healthy Schools Healthy Families program manager, says healthy snacks can rival the taste and appeal of popular, packaged foods. "It's all about the presentation," says Cox. "Get your kids involved in preparing snacks. It's a surefire way to ensure whatever is made gets eaten."
Her tip: Make snacks and meals colorful by including fruits and vegetables.
"Don't be afraid to let your kids play with their food," she says. "Encourage them to become food artists by letting them build their own treats. Let them add healthy condiments, herbs and salt-free spices to make their treats look and taste more interesting."
Cox recommended snack recipes include: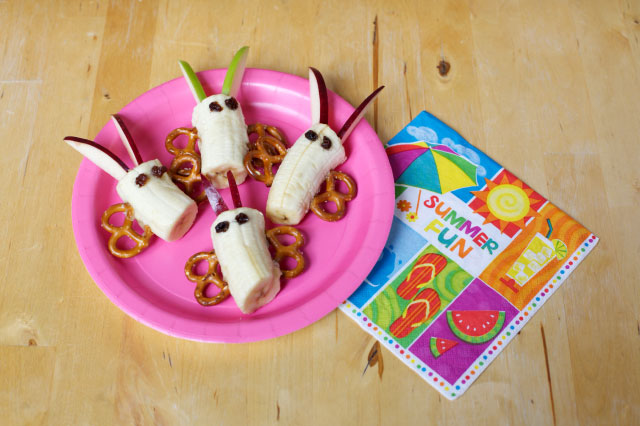 Ingredients:
Bananas
Small pretzel twists
Apples
Raisins
Directions
Slice banana into pieces
Insert pretzel twists into sides of the banana for "wings"
Gently push apple slices into banana for "antennae" and raisins or chips for "eyes"
Ingredients:
Whole wheat, round crackers
Low-fat or fat-free cream cheese (softened)
Low-fat yogurt
Cherry tomatoes
Black olives
Chives or spinach stems
Directions
Mix equal parts of cream cheese and yogurt, stir until smooth
Spread cream cheese mixture on crackers
Place two quarter pieces of tomato on a cracker at an angle for the ladybug wings
Cut off the end of the olive and place it in front of the tomatoes for the head (large hole facing upward)
Place chive pieces into hole in olive for the antennae