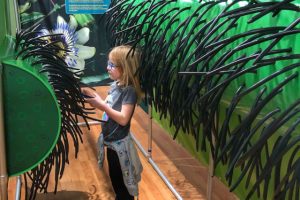 Kids can glide like butterflies and scale up a spider's web as they trek along Sloan Museum's Rainforest Adventure, a two-part maze featuring authentic sights and sounds of a tropical jungle.
The mazes, which are fun for everyone, offer participants the opportunity to complete puzzles and physical challenges along the way. Wrong answers lead to dead-ends, while correct answers move participants forward to the next section of the maze.
Participants will walk away with a better understanding of delicate rainforests, their inhabitants, and how everyday human habits can impact the rainforest's survival. They'll also get an inside look at butterfly farming, learn how some programs are rescuing caterpillars from predators, and get a chance at feeding these delicate creatures.
Entry is free to Genesee County residents and Sloan Museum members. Nonresident tickets are $7 for adults, $6 for seniors and $5 for kids ages 2 to 11. The museum, located at 4190 E. Court Street, is open Monday through Saturday from 10 a.m.  to 5 p.m. and Sundays from noon until 5 p.m. Reservations can be made at sloanlongway.org/dinosaurs or by calling 810-237-3450.