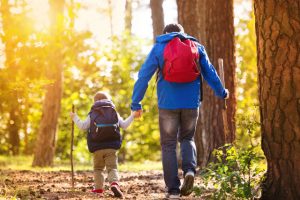 Getting outdoors is good for your health and disposition, according to a growing body of researchers. Sure, there's the value of heart-pumping exertion, which benefits the cardiovascular systems, but there's something more.
Several studies, including one published in Environmental Science and Technology in 2011, suggest exercise outdoors benefits mental well-being more than the same type of exercise inside.
Kids exposed to natural environments learn new things and gain important skills and confidence as they traverse rocks, climb trees, and delight in new discoveries from bugs to waterfalls. Outdoor pursuits also give everyone a chance to disconnect from their devices and bond with each other and their surrounding environment.
Try these local paths that are family-friendly and free. To learn more, call 810-736-7100 or visit geneseecountyparks.org