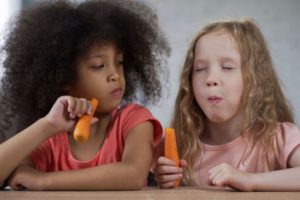 When hunger hits, you automatically go for whatever food items are within reach. That's why it's important to plan ahead and have a healthy snack haven stocked and ready to grab, says Leah Cox, Genesee Intermediate School District's Healthy Schools Healthy Families program manager.
She recommends getting kids involved in selecting and stocking healthy snacks. Her advice is to let kids:
Prepare snacks. Give them age-appropriate instructions.
Share snacks. Encourage kids to serve themselves and share with others.
Watch you snack. When you eat healthy snacks your kids are more likely to.
Take a bite. Encourage your kids to take one bite, but never require children to eat an entire serving of a food item they are not sure about.
Follow the touch-smell-taste rule. If kids are hesitant to taste a new food, let them smell, touch, or nibble.
Earn rewards. Reward children when they try something new, using a non-food prize such as a sticker, reading a book, going for a walk, or having a dance party.